Fishing Charters in Jacksonville, FL
Creating a fun-filled day for the entire family!
Fantastic Fishing Charters
Enjoy fishing the greater St. Johns River and Mayport jetties with the best fishing charters in Jacksonville, FL—Fish Hunter Charters. Our experienced captain will take you to the best locations for fishing and wildlife spotting, ensuring that everyone in your party will have an unforgettable experience. Whether you're planning a fishing trip for your family or you want to share your love of fishing with your coworkers, we have a lifetime of knowledge about the local waters to share. Contact us now for inshore fishing, offshore fishing, or tours that you'll be talking about for years to come.
5% Off
for Veterans, Teachers, First Responders, and Active Duty Military
Plan a fishing trip for yourself, your family, or your business associates today.

About Captain Steve Mullen
Steve Mullen, your captain and guide, is a Jacksonville native who has traveled up and down the east coast honing his fishing expertise. While much of his life has been spent in the service of the Jacksonville Sheriff's Office, he now spends his hours working as a full-time charter captain. Captain Steve has fished in many tournament arenas, including the Southern Kingfish Association, various blue water big game events, as well as local redfish, sheepshead, and flounder tournaments.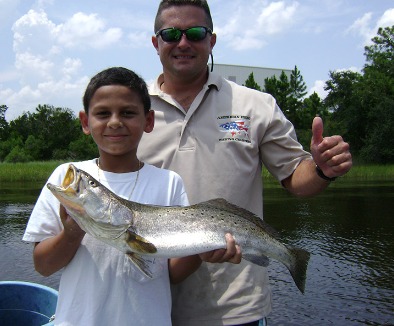 He is most proud of his accomplishments related to his charitable fishing contributions. He started American Hero Fishing Charters in 2009, partnering with the Jacksonville USO and Mayport Naval Base, and to this day, they continue to take military personnel returning home from duties on discounted fishing charters. Captain Steve has been proud to offer services to the Wounded Warrior Project since 2010.
In 2013, Captain Steve formed the Police Athletic League Fishing Club here in Jacksonville and has since taught more than 100 children from deprived environments how to fish through classroom teaching, practical exercise, and live fishing field trips. He is a family man who enjoys nothing more than bringing smiles to kids' faces when they achieve great or first time catches. The First Coast waters of Jacksonville, Florida, offer a wide variety of species, great memories, and fun, so join Captain Steve on the waters soon!
Contact Us
Thank you for your interest. We look forward to hearing from you soon.
Phone
(904) 463-3998
Hours of Operation
24 Hours a Day, 7 Days a Week
Boarding Location
Mike Scanlan Public Boat Ramp
(a.ka. Mayport Boat Ramp)
4870 Ocean St.
Jacksonville, FL 32233

Service Area
Proudly Serving the State of Florida
Accepted Payment Types
Cash, Check, Money Order, and Venmo